Framing Your Best Look: Part 3
Choosing a Frame



By Peggy Berk, Area Aesthetics

Over the past few months, we've looked at the basics of selecting artwork which is appropriate for your room and choosing a mat that will showcase the work as the artist intended. Once you've gotten those basics down, you are well on your way to choosing a great frame because you've already made the important decisions about mood and style, decisions which should continue to influence your choice of a frame.
From an aesthetic standpoint, frames can be broken down into four major groups: period, traditional, transitional and modern. It is a good idea to select a frame style that will complement the style of the room, but look for frames that can be easily moved to other rooms in your home as well. You will often spend as much on framing as you did on the artwork itself, so build in some flexibility should you decide to move the artwork at some point in the future.
Consider color, material, finish, size and scale, in addition to style. When framing multiple pictures for display within one room, select a "family" of frames that not only complement the room, but also have something in common with each other. This will insure that your frames are harmonious throughout the room and give you a great deal of flexibility when hanging your pictures by enabling you to easily create cohesive groupings.
If you are trying to create a gallery effect in the room, matching frames will probably be your best option to maintain continuity and lead the eye around the room. For other arrangements, however, think of your frames as a collection of accessories. They will be far more interesting if they share some common elements, such as color and material, but have unique details which makes each one an object of interest.
Scale and proportion are important considerations in every aspect of a well designed room, and your frames are no exception. Be careful never to let the frame overpower the artwork itself, and assess the framed work in terms of its overall proportion and scale relative to the area in which it will be displayed and the furnishings around it. You can utilize a grouping, or display multiple pictures in a single frame to achieve the right scale and proportion for any wall space.
Proper framing plays an important role in preserving and protecting your artwork. The frame should support the artwork - not vice versa. It is also helpful to have the fame protrude above the surface of the artwork to serve as a "bumper" should the artwork fall or accidentally be hit by another object. Glass, preferably non-glare, or plexiglass, should always be used in the framing of any art works on paper. Works on canvas, including stitchery, can be framed without glazing.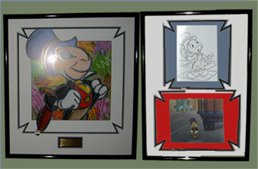 About the Author: Peggy Berk is an award-winning interior designer and certified interior redesigner serving both residential and commercial clients. Her company, Area Aesthetics, provides full service interior design and decorating for complete interiors, one day interior redesign, home staging services, art and accessory styling services, color consultations and shopping services.
`