Rental Redesign™:
Studio Sense
Put your design focus on function and lifestyle to make a small studio work in a big way.



By Peggy Berk
Interior Decorator & Certified Interior Refiner
Area Aesthetics


Studio apartments less than 400 square feet aren't all that uncommon in the rental market, especially in desirable urban neighborhoods. Unfortunately, the trade-off for high-end amenities and a great location is often that your rental dollars buy very little living space.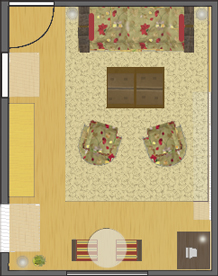 I recently designed a 375 square foot studio rental in one of Manhattan's poshest buildings. Small as it was, this studio had a separate full-sized kitchen and a very large bath, leaving a room slightly under 220 square feet to accommodate all of the tenant's other needs. The functional requirements were formidable. A conversation area suitable for small scale entertaining, a media and storage unit, dining for two and a bed are generally on the list. However, this tenant also needed a second bed for her mother, who is an occasional overnight visitor, and a work area that could support her professional needs as a full-time work-at-home writer.

When a studio is being designed for full time living and working, it is very important to create a real sense of home and to provide distinct areas for different functional aspects. Entertaining friends in a space that doesn't telegraph its alternative function as a bedroom shouldn't be considered a luxury, no matter how small the space. Too, while it may be okay to use a dining table for occasional work at home, a full time home office should be contained in a separate area of the studio. This will allow for relaxed dining and the ability to separate from work-related stresses when it's time to kick back and unwind at the end of the day.

In any small space, it is important to be aware of scale and to keep all of the furnishings harmonious. Rather than go for the largest seating your room can accommodate, go for the smallest that will do the job. Lower furniture will add a sense of volume to a room, expanding it visually. Place the taller furniture against a far wall, if possible, keeping a clear line of sight into the room. When it comes to style, the eclecticism that can work so well in larger rooms serving just one or two functions, can easily cross the line into a cluttered look if not handled deftly in a multi-functional studio. Choosing a more homogenous style will help you to maintain a sense of harmony.

Another element to watch is your traffic pattern. When arranging your furniture, try to create one main traffic route that can be used to access all of the different areas in the studio. Avoid patterns that transverse functional areas or weave in and out among them. An "L-shaped" pattern will not only keep you and your guests from bumping into each other, but will also preserve the maximum amount of space for your furnishings and help to separate and define functional areas.

The major challenge in the diminutive studio I recently designed was finding the room for two separate sleepers without encroaching on the area that we wanted to set aside for work.

The sleep sofa has been a mainstay of studio living for as long as I can remember. I think a convertible is fine for the occasional overnight guest. However, it has never been my favorite solution for a bed that will be used daily because I've never met a client who didn't dread the pull-out-the-bed ritual that usually involves rearranging at least some of the other furniture in the room.

Clients who call me looking for a better solution have so tired of the nightly ritual that, unless they are expecting company, they no longer bother to close the sofa bed and leave the cocktail table and other furnishings that had to be moved strewn dysfunctionally around the room. To make matters worse, the other seating in the room is now permanently occupied by the displaced sofa cushions. When they've reached this point, the studio may be working as a bedroom, but it no longer functions on any other level.

Unless your studio is unusually large, I have found the best solution is the traditionally sized daybed, which uses a 33" wide mattress. Larger than half of a queen sized mattress, but narrow enough to look and sit like a sofa, the daybed handles its double-duty with great style.

The downside is that the traditional 33" daybed is increasingly difficult to find.
Whereas once daybeds were defined by the mattress size, this is no longer the case as the term now specifies a style of bed that is designed to sit parallel, rather than perpendicular, to the wall. Of the two top manufacturers of daybeds, one no longer makes anything smaller than a twin and the second only carries two models in the 33" size. Invariably, a twin-sized daybed looks like a bed, not a sofa, and its 39" mattress makes for very uncomfortable seating.

If you're shopping for a traditional daybed, be very clear about the size you want. You can also try asking for "studio sofas" and even chaises, some of which will fill the bill nicely despite the confusing nomenclature. If the innerspring or foam mattress isn't quite up to everyday sleeping standards, you can find quality, well-priced 33" daybed mattresses through 1-800-Mattres.

For the occasional guest, there are lots of interesting convertible solutions. One of the most innovative in the market is a rattan, leather and mahogany travel trunk from Bauer International that converts to a twin bed with an innerspring mattress. What makes it extra special is its leather headboard unit comprising shelves and closed compartments, making it a great solution if you have longer-term guests who will be needing some of their own storage space, as well.

To complement a daybed of woven chocolate sea grass upholstered in a British Colonial inspired fabric in the studio I designed, I chose a brown leather ottoman that opens to a twin size bed for mom's overnight visits. The ottoman does double duty as a table and only necessitates moving two small chairs a few inches back to accommodate the bed.

Making a small studio work well requires good "studio sense," and that means an unwavering focus on function and lifestyle as you design your way to a great looking room.

Peggy Berk, IDS-Associate, is an interior decorator and certified interior redesigner. Her design firm, Area Aesthetics, specializes in interior redesign, home staging and full service interior decorating. A renter herself for the past 30 years, she has lived in, and redesigned many times over, the parlour floor of a townhouse in New York City. She has worked with a wide variety of clients living in rental homes throughout the New York Metropolitan Area and Florida.